BailVision is Power. Insight. Control.

The bail industry's most advanced and user friendly bail management software.
POWER MANAGEMENT
Accept, organize and distribute powers across your agency.
REPORTING
Submit and pay for your reports electronically to get your replacement powers fast.
AUTOMATED NOTIFICATIONS
Send text, voice, email or regular mail notifications to defendants, attorneys and indemnitors.
DEFENDANT TRACKING
Accurately track the current and historical movements of your defendants over the course of their pretrial release.
PAYMENT PLANS & COLLECTIONS
Create, manage and track payment plans for defendants and indemnitors.
AGENCY ANALYTICS
Analyze and track your agency operations across multiple dimensions to maximize efficiency and effectiveness.
ARREST HISTORY
Run an instant arrest history report on each and every defendant with immediate results.
DOCUMENTS & FORMS
Document Management/Auto-Generated forms – Auto populate required bail forms and documentation right from the system.
DEFENDANT ALERTS
Get notified when a defendant you have on bond gets rearrested anywhere around the country.
MOBILE CHECK-INS
Make things easier for you by having defendants simply check-in via their mobile device from anywere.
Power Management
FINALLY A WAY TO MANAGE YOUR POWERS MORE POWERFULLY.
With a simple single dashboard, BailVision helps you seamlessly manage, track and distribute your power inventory across your agency.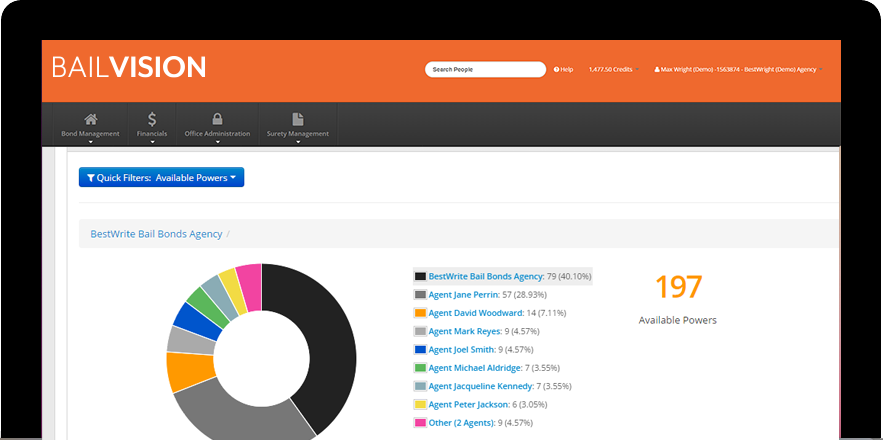 BailVision Reporting
Reporting Made Easy
BailVision enables your office to populate, submit, and pay for your reports electronically. In most cases, powers are replaced and shipped same-day with an option to expedite shipping. A history of all your reports along with digital scans of your powers are available in the system. Reporting has never been easier or more convenient with BailVision.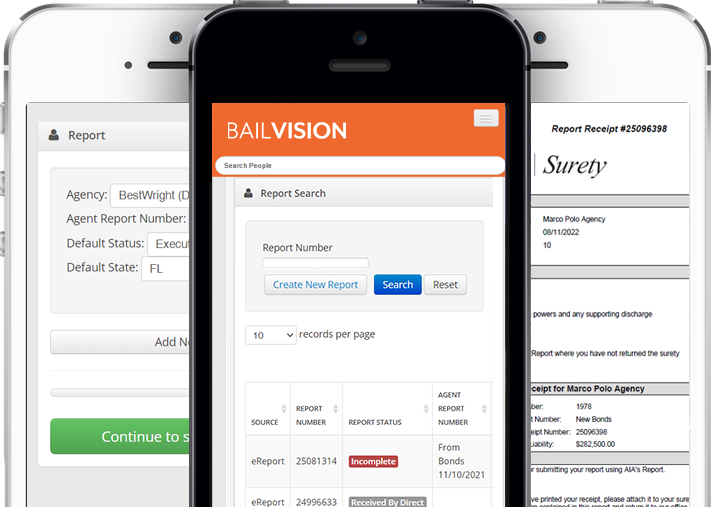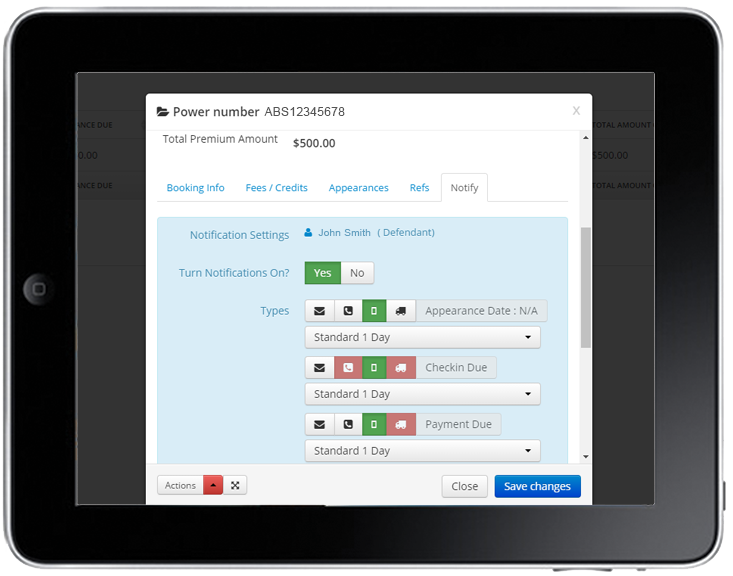 Automated Notifications
NEVER PLACE ANOTHER REMINDER PHONE CALL AGAIN.
Let BailVision do the work for you with automated notifications. Whether you prefer text messages, emails, phone calls, or standard mail, BailVision lets you stay on top of your defendants from anywhere and everywhere. You set the schedule and the delivery method and BailVision does the rest.
From defendants to attorneys to indemnitors, keep each and every interested party up to date on everything from court dates and payments. Better notifications means lower FTA's and increased payment collections.
Mobile Check-Ins with Check My Bail
A MOBILE APP WORTHY OF DOWNLOADING.
With its proprietary mobile check-in app, Check My Bail, BailVision allows you to keep track of your defendants 24/7 without lifting a finger.
As always, you set the schedule and frequency and BailVision does all the work. Your defendants just click on a text link, snap a selfie, finger sign a confirmation and they are all checked in. The check-in dashboard allows you to manage all of your check-ins in one place so you can see who has checked-in and who hasn't.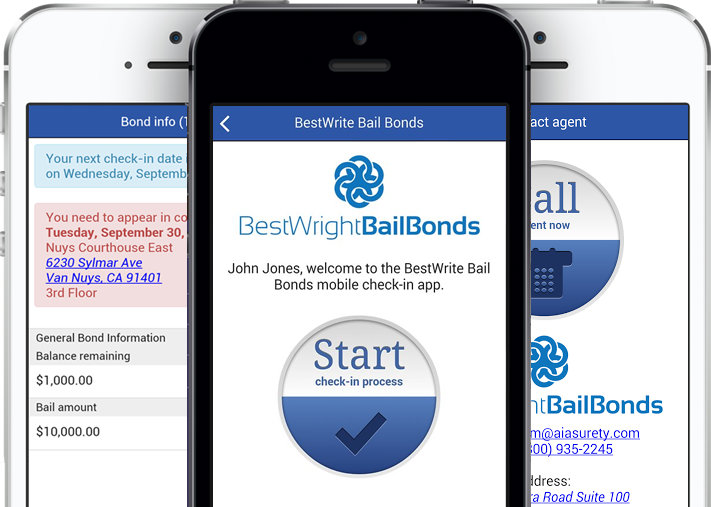 Defendant Tracking
KNOW WHERE YOUR DEFENDANTS ARE AND WHERE THEY HAVE BEEN.
BailVision doesn't just track the current location of your defendants, but more importantly, it tracks where they have been. With its innovative heat mapping technology, BailVision gives you a complete 360 degree view of your defendant's geographical behavior based on their check-ins.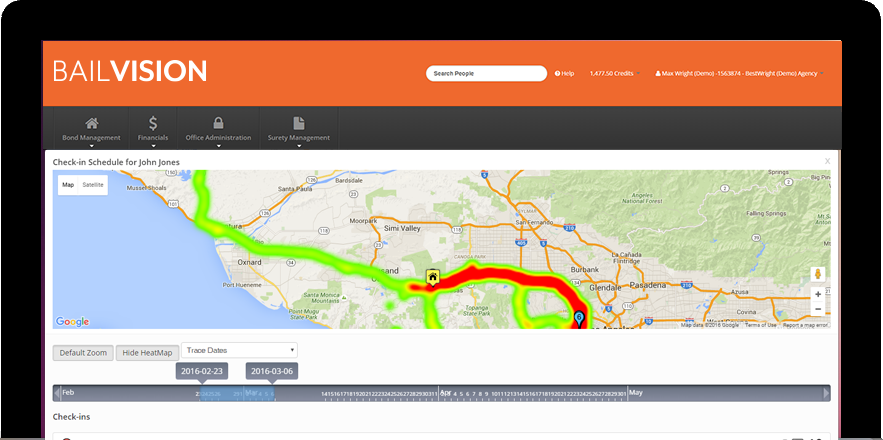 Payment Plans & Collections
CREATE, SCHEDULE AND MANAGE PAYMENTS LIKE NEVER BEFORE.
Want to create a payment plan based on time? How about a payment plan based on a specific amount? BailVision gives you the control and flexibility to create and customize the most appropriate payment plan for each and every one of your customers.
Additionally, with BailVision's comprehensive collections dashboard, you will have insights into how much your agency has collected, as well as how much is currently owed. This combined with BailVision's advanced notification technology will help you and your team increase your collections processes and their effectiveness overnight.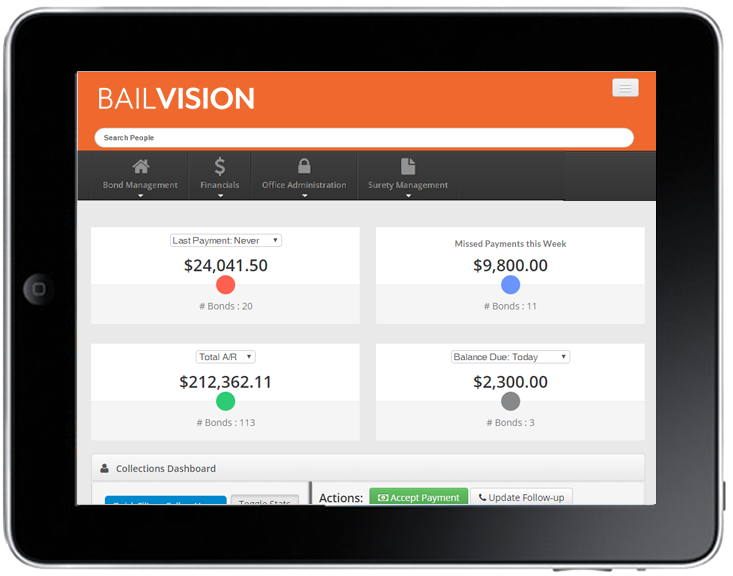 Automated Forms & Document Management
STOP SHARPENING PENCILS AND START WRITING MORE BUSINESS.
Rest your writing hand and start letting technology do what it was designed to do… make your job easier.
BailVision is designed to take the information you have entered in the system and automatically populate and complete all of your bail forms with the simplicity of pushing a single button. No more filling out forms in duplicate by hand or worrying about whether you have the correct forms for out of state transactions.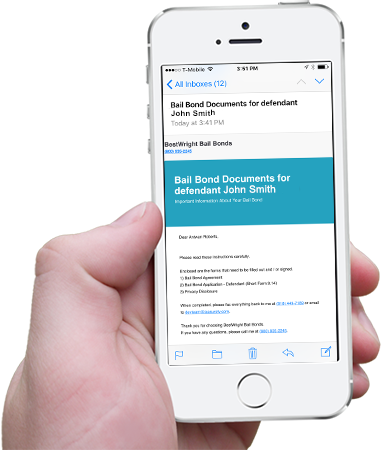 Instant Arrest History
WANT TO KNOW MORE ABOUT A DEFENDANT? NO PROBLEM.
Run one of BailVision's instant arrest report and discover up to 7 years of arrest history on any of your clients.
In partnership with Appriss, the nation's leading provider of victim notification data, BailVision has access to this vital arrest data all over the country. Just enter the defendant's information and BailVision will do everything else.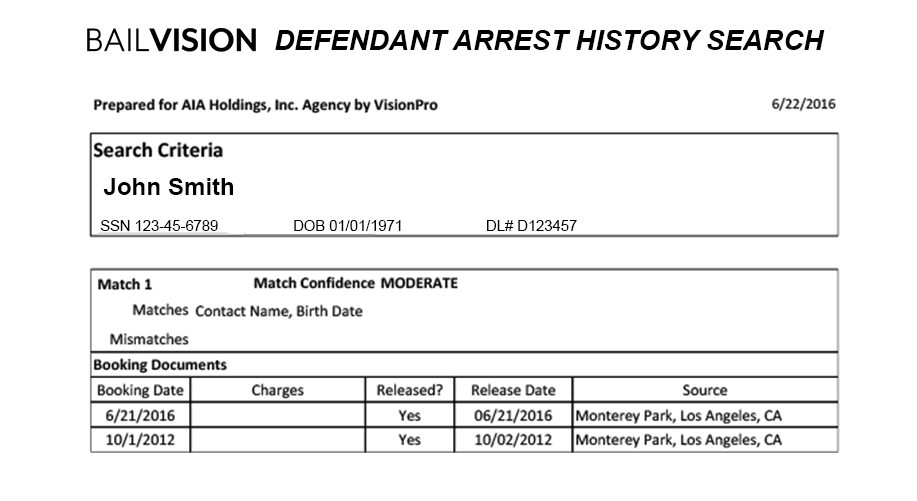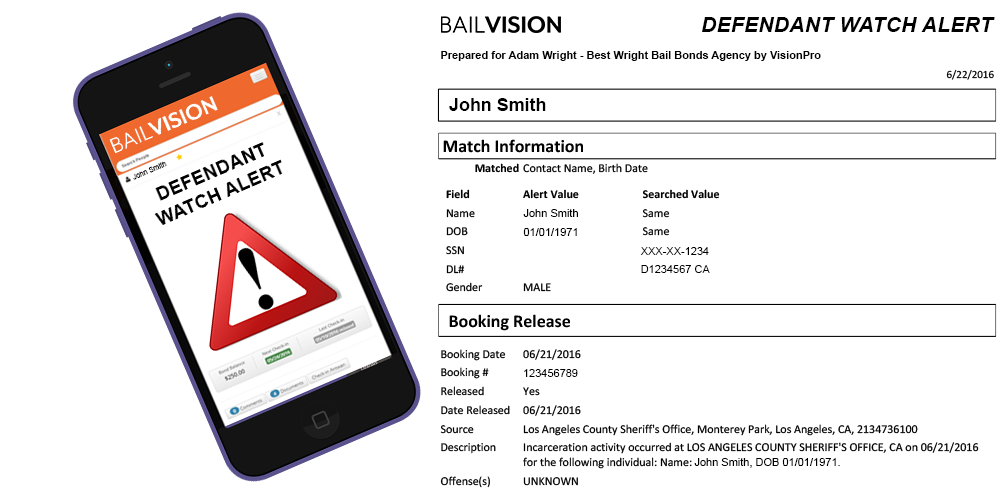 Defendant Watch Alerts
GET NOTIFIED INSTANTLY SHOULD YOUR CLIENT BE RE-ARRESTED.
Have you ever paid out a judgment on a bond and found out later that your defendant had actually been in custody in another county or even state?
With BailVision, you no longer have to be left in the dark. Once again, through our partnership with Appriss, BailVision is able to provide nationwide defendant watch services.
With a single click you can turn on a "watch" and be instantly notified if your defendant is re-arrested anywhere across the country. This information can help you better manage your defendants and better manage your risk.
Agency Analytics
KNOWLEDGE IS POWER. WITH US, YOU GET BOTH.
BailVision allows you to dive into your agency's information in ways you could never imagine. From collections efficiency reports, lead generation analysis and behavioral heat mapping assessments, you have access to vital agency data that can not only help you make better decisions, but make your agency a better business.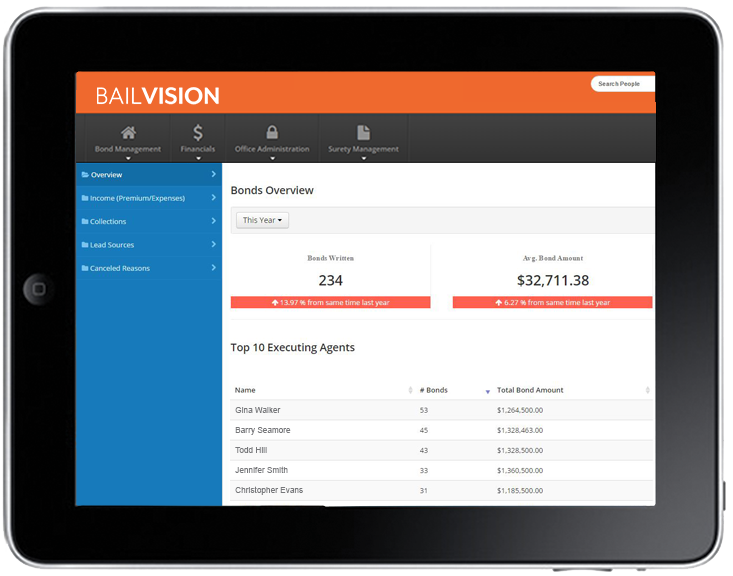 Electronic Signatures
Create the Form Package Easily
Select your customer and the forms you want them to sign. The forms will automatically populate with the data you've entered into BailVision
Email the Forms Instantly
BailVision will create a unique package of forms and email them to your customer with instructions on how to sign.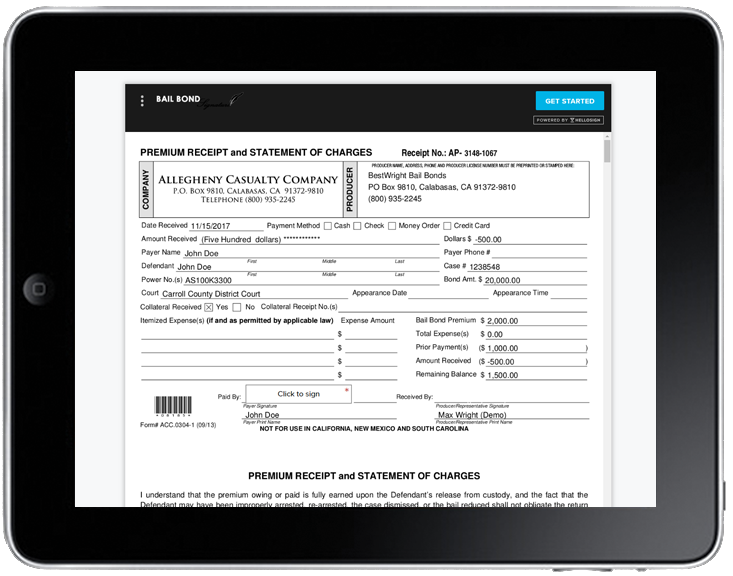 Sign the Forms Electronically
Your customer will receive the form package and can sign using any desktop or mobile device.
Return the Forms Securely
The signed and completed form package now has a security audit trail and is automatically returned back to you and associated with the bond record.
With BailVision's electronic signature package, your staff will be able to quickly and securely produce, send and execute bail bond agreements. Your clients will no longer have to deal with confusing paperwork and your staff will no longer be waiting for paper documents. BailVision's e-sign feature is a true win-win for everyone.
BailVision Credit Card Processing
Automated Payment
Automatically charge your client's credit card based on BailVision payment plan schedules.
Payment Transaction Notifications
BailVision will also notify your clients of successful and declined transactions automatically.
Complete BailVision Integration
BailVision's credit card processing is the only system that fully integrates into the BailVision system allowing you to fully leverage its power.
Secure Swiping/Keying
Eliminate double entry by Swiping or manually keying in credit card information directly into BailVision. Credit Card information are tokenized and stored security to ensure compliance.
Setup is Fast
Get up and running quickly with step-by-step instructions.
Frequently Asked Questions
How much does it cost?
BailVision's integrated credit card processing costs 2.9% + 0.30 cents per transaction. There are zero monthly fees.
There are a multiple factors that go into a credit card merchant rate calculation and a number of different methods of calculating it. Much like PayPal, Square, and Intuit Payment, BailVision is offering a fixed rate for an integrated solution. Integrated solution processing rates are typically higher than a stand-alone terminal, but include much more functionality. In the case of BailVision's solution, not only does it enable you to process credit cards, it also includes features like automated payment, automated notification, state compliant receipt generation, refund workflow, AR transparency, and much more.
Are my client's credit card information stored securely?
Absolutely. BailVision doesn't store credit card information in the system, we encrypt and tokenize an identifier and store the card information at the merchant gateway ensuring best practices for security standards and PCI compliance.
How will I know who paid and who didn't pay?
BailVision will charge your clients credit card according to the terms of the payment plan. Declined transactions will be visible in the collections dashboard and an email notification will also be sent out to your office.
Contact Us
Sign up or learn more about BailVision
Contact our team at (800) 935-2245 or fill out the form below to have our team contact you.